Happy New Year!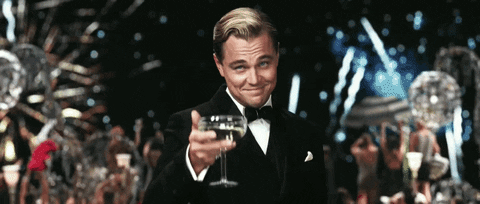 2020 has finally arrived and it feels as though there should be robots wondering around on the streets by this point. But luckily a robot/alien invasion isn't on the cards as all the movies have led us to believe, and instead we've been reminiscing about the 1920's.  Like a dream come true, we (comprising of me, my boyf and his sister) hosted a roaring 20's party to lead us into the New Year. As a pivotal time in fashion, I have always felt so inspired by the 20's due to the glitz and glamour of the dresses, jewellery, androgynous hairstyles and the parties. As the quintessential novel of that decade, Great Gatsby showcased the excessive opulence of the era in addition to atrocities that were often masked by such conspicuous extravagance. But problematic events aside, the fashion was glorious and I had so much fun putting my costume together as inspired by Baz Luhrmann's movie.
The dress was from my mum's wardrobe, as they always are, which she purchased a couple of decades ago. I found this wig from Spotlight which looked nothing like the assigned photo and the description of '1920s Flapper Wig'. I'm thinking it gives off more Pulp-Fiction-Uma-Thurman vibes, or even Dora the Explorer, but that's fine. I wore it with my leather, round-toe shoes from Florence and a white opal necklace.
Needless to say, my priorities were NOT sorted and I failed to get any individual photos. The obligatory front pose, side pose and back pose to show the outfit from 360 degrees was noticeably absent as I was too busy hosting. So the photos where my boyfriend performs the same pose in every shot will have to do. He's trying to be Leo, just BTW.
Trying to be poised and dignified….
…Until we're not
So just like that Christmas and New Year's is done and dusted.
On a more serious note, it feels somewhat odd to be celebrating when disastrous bushfires are burning right across the country, and they're showing no sign of slowing down. The climate crisis is is real, it's here and it's deadly. It's also downright terrifying. But I'm grateful for these moments I can have with my friends and family, where we can join together and enjoy some laughs, have a dance and be safe. Others are not so fortunate and are unable to celebrate with their loved ones over this holiday period as they continue to battle the fires. I can't pretend to know what that's like, but I hope that this year we can all work together to mitigate the effects of climate change. Let's all try to look after each other in 2020, and have a safe and happy New Year.
Thanks for stopping by! x